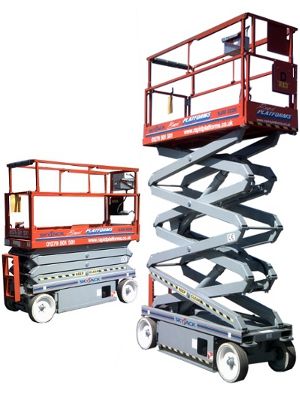 Courtesy- Rapid Platforms
There are various types of ariel work platforms used to carry out different jobs such as cleaning windows of a high-rise building or carrying out a rescue operation on the top floor of the building. Given below is a guide to help you identify the different types of ariel work platforms available in the market:
1. The boom lift
In the category of elevated work platforms, it is also known as "the spider". This platform is mounted on a vehicle and has a work station where the workers stand to carry out the required task. The vehicle that drives the platform has durable tires which make it easy to operate on uneven land. The main utility of the boom lift is to assist fire fighters in their rescue mission and to help construction workers in their projects.
2. Scissor Lift
This type of platform can only move in the vertical direction. Pressure is applied to the lower support which enables the platform to move in a vertical direction. Their use is limited and are most suitable for indoor tasks such as maintenance and painting.
3. Stick Boom Lifts
In a stick boom lift, the platform can be maneuvered both in vertical and horizontal directions. These types of platforms can be used indoors and outdoors. The platform is caged which helps to ensure that the workers carry out their tasks in a safe environment.
To conclude, there are multiple types of platforms available and these tips serve as a guide to help you find the right ariel work station for your desired task.